Grant
The 2017 grant application closed October 13, 2017
2017 Grant Recipients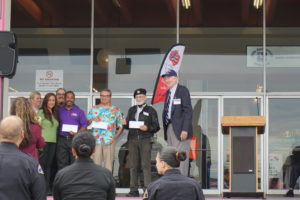 ECS / Able Disabled Advocacy / Arts for Vets.
Description and Purpose of Grant:
The Veterans Employment Committee of San Diego County (SD VEC) has established a grant program for the encouragement of organizations and agencies that provide a hand-up to veterans. It is the desire of SD VEC to offer several $1,000.00 grants each year to qualified applicants. SD VEC may not offer grants in any given year if there are insufficient applicant proposals meeting grant criteria. The SD VEC is dedicated to serve disadvantaged veterans and transitioning military members of all branches of service, by providing assistance to remove barriers that may prevent them from obtaining life sustaining employment. The committee believes that it is more benefiting to the veteran as well as the overall society to provide the veteran a hand-up not a hand-out thus preventing possible long term unemployment and homelessness.
The Veteran Employment Committee of San Diego County awarded $2000 to ECS to support direct client assistance to veterans served by the Friend to Friend Program. The funds will assist homeless veterans in their job search by providing interview clothing, bus passes, and other basic needs.